IMAGINE WALKING DOWN THE AISLE KNOWING EVERYONE IS THINKING…WOW!
Having worked on hundreds of brides, I understand the importance of creating a look that you will fall in love with. I love being part of your wedding morning and my aim is to ensure you look confident and feel amazing on your wedding day.
With a naturally creative eye and working with precision I turn your desired bridal look into reality. Ensuring you look and feel yourself and I take pride in being able to listen to your requirements.   Calm, patient and able to adapt to any changes I prides myself on being flexible and understanding.
Your Bridal trial will take place at my hair and make-up studio in Milton Keynes. There is appropriate lighting, relaxing atmosphere along with a prestigious hair and make-up kit.  Images and notes to record your hair and make-up look, so it can be replicated on your Wedding day. The studio stocks the delilah range of cosmetics.  You can choose any products you wish to retouch your make-up during your wedding day should you wish to.
My vast experience of working on hundreds of brides during my career I am able to create realistic timings for you to ensure your preparations on your wedding morning are not rushed. Finishing touches are made before you leave for the ceremony and I ensure that every effort is made to ensure you are 100% happy with your experience. I specialise in creating a flawless, long lasting, photogenic hair and make-up look that will last from morning until night.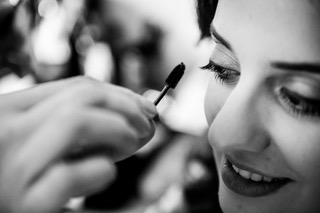 ​My work has been featured on the front cover of Your Beds and Herts Wedding magazine and included in other publications: The Lady, Extreme Cakes Makers, Rutland Pride Magazine, Wedding Ideas Magazine, Magpie wedding blog, Bond Wedding Magazine and Rock my Wedding Blog. I also contribute to Magpie Wedding Blog and Winner of One to Watch make-up artist award.
Travelling nationally and internationally, primarily covering the following areas: Buckinghamshire, Bedfordshire, Hertfordshire, Oxfordshire, Leicestershire, Northamptonshire, London and destination Weddings.